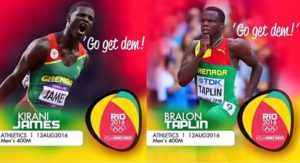 UPDATE: Both Taplin and James move forward to finals on Sunday, August 14. James with the best qualiying time (44.02s) in the semifinals will be running in lane 6 and Taplin with the fourth best qualifying time (44.44s) will be in lane 4.
Today Friday  12th August  2016 Bralon Taplin and Kirani James will compete in the Men's 400m Heat at the Rio Olympic.
Taplin runs in Heat #2 at 8:13 p.m. local time and Kirani in Heat #6 at 8:45 p.m.
Check your local carrier for coverage or you can go to GBN.gd
Let's get together and support TEAM GRENADA.
Please note also that the SEMI-FINALS of the Men's 400 is on Saturday 13th  at 7:30 p.m. and the FINALS is on Sunday 14th  at 9:00 p.m.